By: Gabriel Harber
Howdy folks and welcome to the last week we'll share together. Sad, I know. I'll be traveling for most of December which means I'll be unable to catch the weekend action in a timely fashion. I'll have to rough it like my grandpappy did before the interwebs and all that jazz. Oh well, I'm sure I'll be replaced by someone far more talented but much less good looking. Happy trails and see you in the championship.
Dan Orlovsky: Out of nowhere came Orlovsky on Sunday, painting us a picture that made us completely forget Curtis. Yes it was the Patriots, and yes the playoff schedule is brutal, but if you've had injury problems or are in a 2 QB league, any starting quarterback sitting on the wire this late in the season is a godsend. There's enough talent surrounding him that he should be able to piece together some reasonable stats in the upcoming weeks.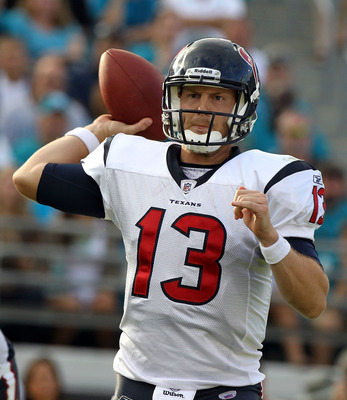 TJ Yates:
Anyone who watched Sunday's contest knows that the end result for Yates was much more impressive than the final stats indicated. The athletic talent from North Carolina was asked to manage the game and allow Arian Foster and the defense to win it. He looked extremely poised and one can only imagine that as he becomes more acclimated to his role that Gary Kubiak will open up the offense for him a bit. Keep an eye on Andre Johnson's hamstring aggravation as it could go a long way towards determining Yates' value.
Donald Brown: As predicted, Brown has secured the leading backfield role in an offense that suddenly has a little life to it. The more the Colts receivers continue to improve upon their hot streak, the more value Brown will hold during the stretch run.
Marion Barber: In my opinion the must add of the week is Barber. A reeling Bears team has revealed itself to be less than capable of chucking it through the air and suddenly finds itself without its best offensive weapon, and the facilitator of over 50 percent of its total offense, Matt Forte. I would grab Barber and hope we see a renaissance over the last four games reminiscent of his time in Dallas that earned him the nickname "Barbarian."
CJ Spiller/Toby Gerhart/Roy Helu: These three should already be owned in every league, regardless of format. I'm simply listing them as a reminder so that if one happened to slip through the cracks you can pounce. I rate them Helu, Gerhart, and Spiller. Spiller would be second but there are rumors coming out of Minnesota that the Vikings may shut down Adrian Peterson for the season in order to protect their investment.
Demaryius Thomas: I had a strong feeling that Thomas would step into prominence this weekend, and stopped myself just short of adding him to last week's pick ups article and my FanDuel article on another site. I wish I had pulled the trigger as I would have looked like a genius, but now I just look like another idiot. Regardless of how you view it, it breaks down like this; Thomas is the Broncos purest talent at wideout and is an impressive physical specimen. Decker, while providing an excellent safety valve for an emerging Tim Tebow, will fall into a natural WR2 role in Denver as Thomas is simply too good to stay silent for much longer.
Reggie Wayne/Pierre Garcon/Jacob Tamme/Dallas Clark:
You may find that over the course of the season some very impatient owners dropped one of these guys (I dropped Garcon after week 10 myself.) It really says something about how bad a quarterback is when he can take talent like this and render it waiver wire fodder, but that's exactly what the Curtis Painter era accomplished in Indy. Now that Dandy Dan Orlovsky is firing rockets (I kid) the Colts offense resembles a living entity once again. There's no guarantees here as the playoff schedule is as rough as anyone's, but there is certainly some sky-high upside should you choose to take the risk.
Visante Shiancoe: Shiancoe has been mostly quiet this year, but a few factors have me convinced that he'll be relevant for the last few weeks of the season. One, Adrian Peterson may be out for the remainder of the season which means a definite uptick in looks for the other offensive players, and two, his schedule. Once you get past a Lions defense that hasn't really been intimidating anyone lately, you have one of the softer set of matchups for any tight end in the league over the last four weeks.
Thanks for reading this year folks and have a great holiday!
Be sure to give me a follow
here
.