By: Gabriel Harber
The past three weeks have shown exactly why having a good backup plan is imperative, both in the NFL and on our fantasy teams. Let's say for example you were sitting pretty at 6-2 just a few weeks ago. You had Jay Cutler, Jeremy Maclin, Julio Jones, and Ahmad Bradshaw all producing at high levels and with the combined power of your other studs you felt confident in your chances of making a championship run.
Flash forward to the aftermath. You're spiraling downwards quickly, about to be 6-5 and clinging to the final playoff berth with a matchup against the league's best team looming next week. At this point it doesn't matter how well you play the wire, you've lost a significant chunk of production and you're left wondering what you could have done differently.
Don't be that guy.
Even though our favorite game is heavily influenced by factors outside our control, we needn't be helpless. There are a few simple steps you can take to give your team the highest chance of succeeding through adversity. Place extra emphasis an acquiring high value handcuffs. Research and find out which guys have shown promise in practice, training camps, and pre-season games and target them as throw-ins in your trades. Scour the waiver wire for high upside players that only need a depth chart breakthrough to be great. Stop holding onto that WR5 because you "just know" he's due and fill your bench with speculative home runs.
Or you can just call Brett Favre, I heard he's available.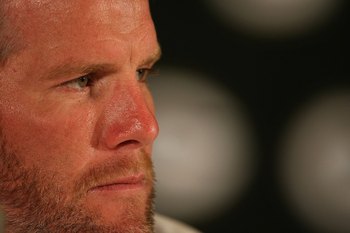 Blank Stare
(Do not, under any circumstances, text him.)
Jacoby Ford: With the Darrius Heyward-Bey banged up (thoughts and prayers go to him) and a hopeful return date of next weekend for Ford, the window to pick up Ford uncontested is likely closing. Carson Palmer looks for him when he's on the field which should be more than enough for you to trust him too.
Kevin Smith: Obvious add is obvious. 201 totals yards, three touchdowns. That is all.
Matt Moore: Head coach Tony Sparano spoke about an emotion and fire that Moore was exhibiting during Sunday's victory. Now I'm no expert (at anything) and I didn't stay at a Holiday Inn Express last night, but there is something going on with the Miami Dolphins the past month that defies conventional wisdom. Moore is playing at another level, managing games and daggering when necessary. He had a career day yesterday with Brandon Marshall being a non-factor. That's impressive and an indicator of a player who isn't forcing mistakes. If you find yourself in quarterback damage control mode Moore is the guy for you.
Vince Young:
Michael Vick is banged up, and has a history of being banged up. Young has been nothing but a winner his entire career (except that time when he was benched, and stopped producing) and as long as Vick stays hobbled I expect to him to make the most of every opportunity thrown his way. If you're in a keeper league this is a no brainer addition, as Young will likely be a starter somewhere next season.
CJ Spiller: Fred Jackson has a calf bruise and that means that as unimpressive as Spiller has been, he's still worth a pick up. The Bills have been lining him up in the slot at times, adding a little icing on the cake for PPR'ers.
Riley Cooper: Vince Young trusts Cooper, as is evidenced by the twelve targets tossed his way and the fact that Young looked to him with the game on the line. DeSean Jackson is still in the doghouse and Maclin may not be cleared to play for a few more weeks. If you need a fill in, Cooper versus New England looks as tasty as the Thanksgiving leftovers you'll be eating as you watch.
Jared Cook: This one's tricky, as his value hinges almost completely on Mike Munchak's decision at quarterback. The Titans have a real shot at a playoff run, two games behind division leading Houston who is rolling with Matt Leinart the rest of the way. The season concludes with a showdown at Houston that could potentially decide the division. If the Titans stick with Hasselbeck then Cook loses much of his appeal, but should they choose to move forward with the future then Cook gains safety valve value for the talented young gunslinger. Keep a close eye on the news coming out of Tennessee.
Nate Burleson: The Lions (specifically Matthew Stafford) are throwing the ball as proficiently as they have been all year, and Burleson has been heavily involved the last two contests as defenses continue to load up on Calvin Johnson. Throw in the newly established running game and you've got a recipe for success.
Backflips for Barber
Marion Barber: The news out of Chicago is devastating. Jay Cutler will miss at least the rest of the regular season. I expect the Bears to limit Caleb Hanie by employing a two-headed monster approach in the running game, which is what Chicago has came out and said that they want to do. Barber has shown he's more than capable as a goal line back, and I would expect his touches to increase to around the 12-15 mark now.
Jake Locker: Looking impressive in his first extended action, Locker almost led the Titans out from the claws of defeat this weekend. He showed exceptional athleticism and poise as he threw bullets to Jared Cook, Nate Washington, and Lavelle Hawkins for long gains. As mentioned above, look for the word coming out of Titans camp for news on what to do here. However, head coach Mike Muchak did say after yesterday's game that
Toby Gerhart: Peterson will likely sit a game, and that means a large workload will necessarily fall into Gerhart's lap. He's shown speed and power in limited touches, but hasn't really seen much action. This is most likely a direct result of late season fumbles that placed him in coach Leslie Frazier's doghouse last season.
I'll see you back here next week! Until then, be sure to shoot me any questions you might have on
Twitter
.